---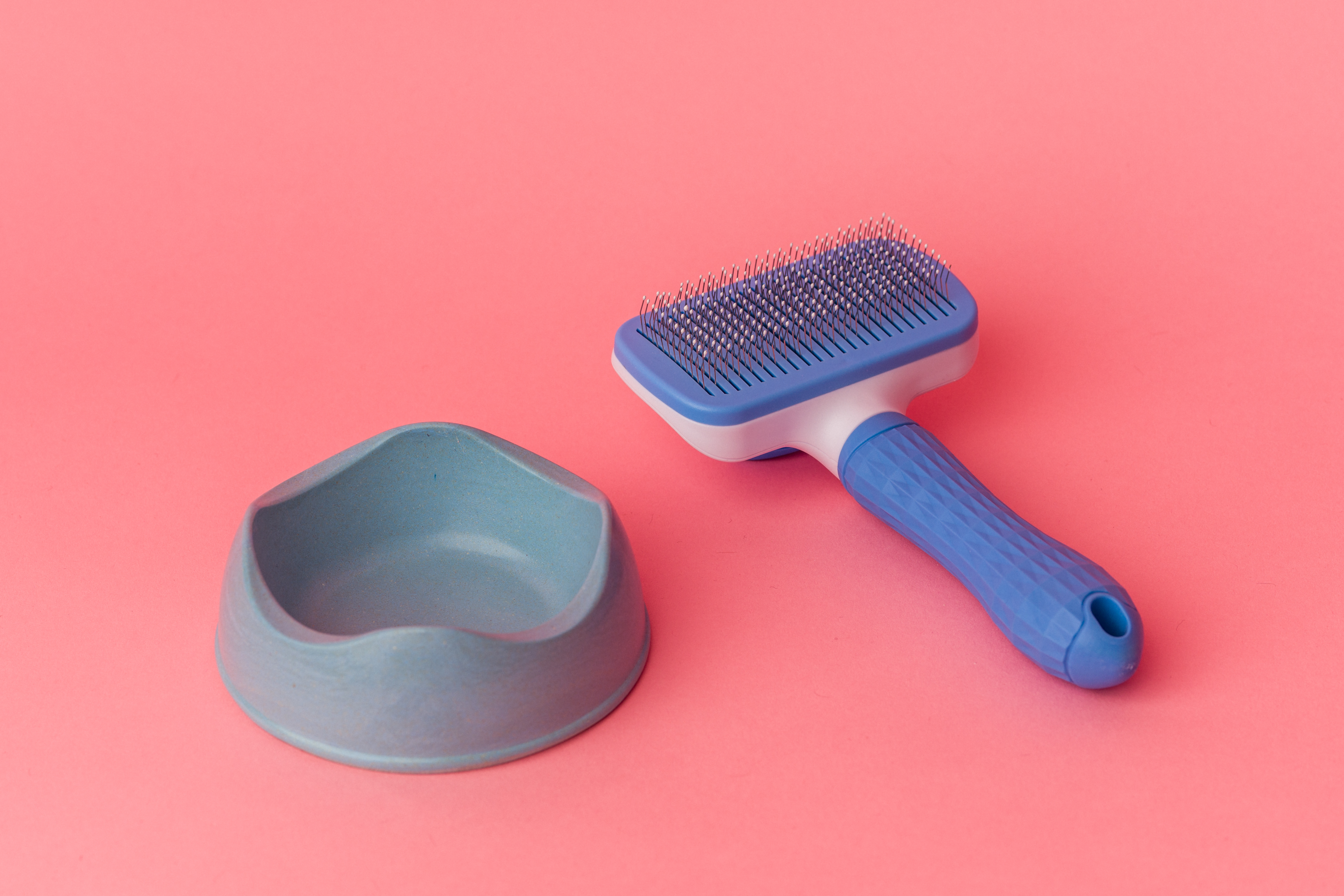 Are you a new dog owner or simply new to grooming dogs? If the answers are yes, then hold up. We have just the right tool for you. It is called the slicker brush.
Today, we're going to dive into the world of dog grooming. We'll find out all about slicker brushes, what you should be looking for when you get one, and most importantly, check out some of the best slicker brushes you can get for your four-legged friend.
Whether you've had dogs for years or you're a newbie in this area, finding the right slicker brush is crucial for keeping your dog's coat healthy, shiny, and free from those nasty mats and tangles.
So, let's explore some top options for slicker brushes to keep your dog's coat healthy and shiny.
What Is A Slicker Brush For Dogs?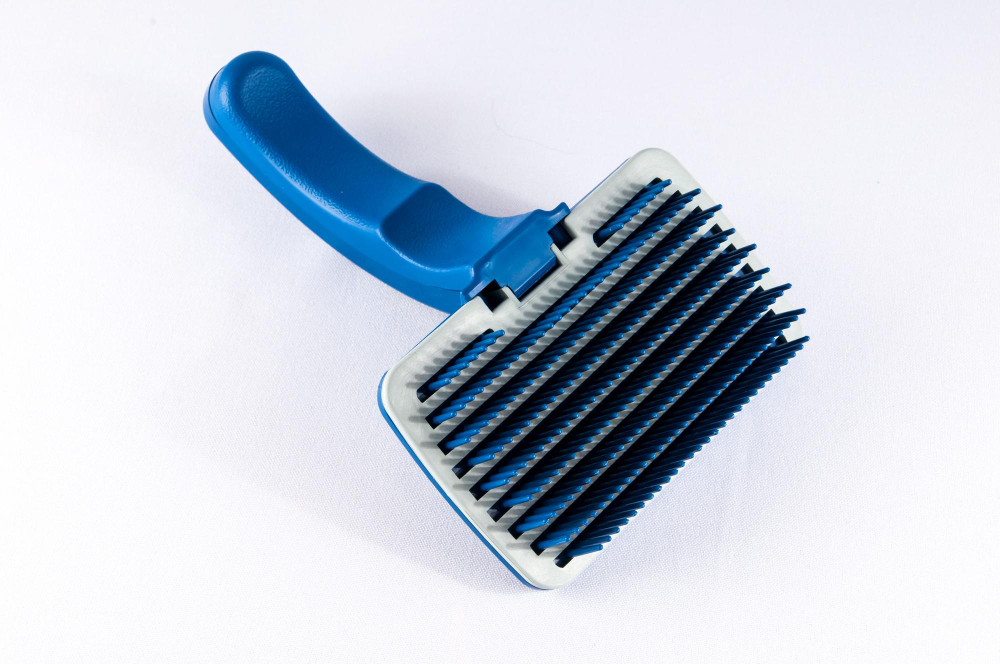 The slicker brush for dogs is like a magic wand for getting rid of tangles and mats in your furry friend's coat. It has these tiny, short wires really close together on a flat surface. Sounds pretty simple and straightforward, right? But it's super effective, especially if your dog has medium to long or a curly coat of hair.
It doesn't matter if your pup is a Golden Retriever, a Yorkshire Terrier, a Cocker Spaniel, or even a big St. Bernard. These brushes get the job done no matter the breed. So, its one of the most important dog grooming accessories a pet owner should have.
Long-haired dogs, in particular, can get stubborn mats, and that's where the slicker brush effortlessly saves the day.
But here, it is essential to not get too carried away looking at those stubborn mats. It is important to be gentle, as those fine, close-together wires can poke your dog if you get too rough. So it's very important that you know how to use a slicker brush on dog.
So, be gentle and patient when you're brushing your furry friend well.
9 Best Slicker Brushes for Dogs in 2023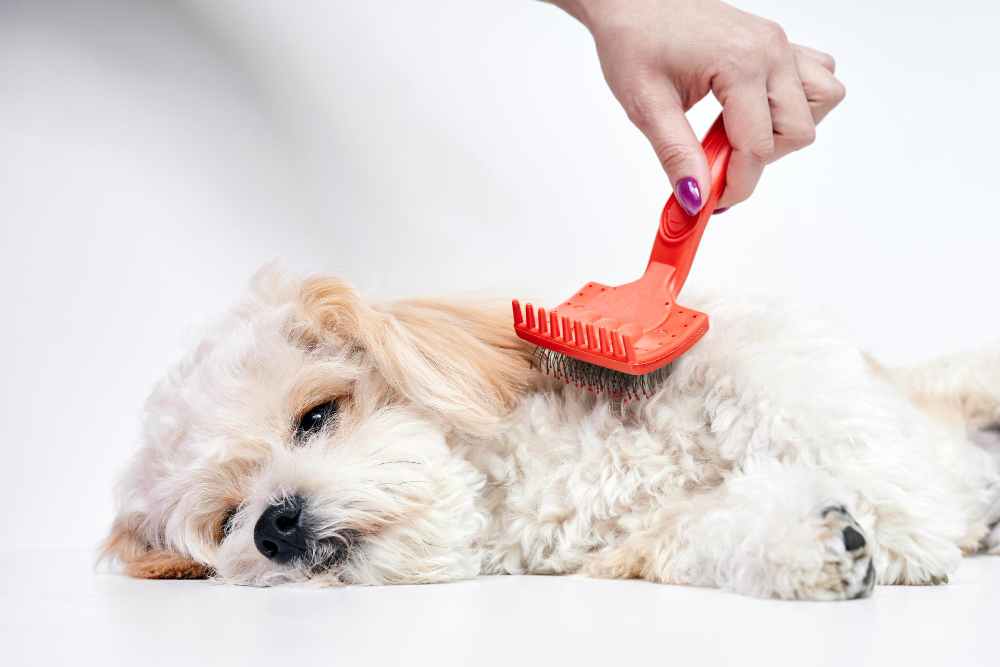 Selecting the best slicker brush for your dog is essential. This will help maintain their coat's health and appearance.
We at Rexipets have researched and compiled a list of top options to make your choice easier:
Rexipets Self-Cleaning Slicker Brush For Cats And Dogs

This slicker brush is designed to make home grooming hassle-free. It comes with a self-cleaning mechanism that allows you to detangle and groom your pet's fur effortlessly.

Plus, cleaning the brush takes just seconds! With a simple push of a button, the bristles retract, instantly dropping the collected hair. Click the button again, and the bristles pop back out, ready for the next round of brushing. It's suitable for pets of all sizes, whether they have long or short hair.

The soft, slicker brush also features gentle yet sturdy bristles. These bristles don't bend and can handle tough tangles while providing a soothing massage for your pet. Using this dog slicker brush makes grooming a fun and stress-free experience for your furry friend.

Pros

Self-cleaning mechanism streamlines the grooming process.

Suitable for various pets, regardless of their size or fur type.

Promotes a healthy and lustrous coat.

Gentle bristles ensure a practical yet comfortable grooming experience.

Affordable and user-friendly for pet owners.

Cons

Hertzko Self-Cleaning Slicker Brush

This pet brush has been thoughtfully designed with the comfort of both you and your canine companion in mind.

By simplifying the brushing process, this brush ensures that your dog's coat remains in excellent condition. It removes tangles, mats, and loose fur, leaving your pet's coat healthy and well-maintained.

Not only does this brush make grooming easier, but it also helps distribute natural oils evenly across your dog's skin. This is a process that's essential for a healthy and shiny coat.

The brush features flexible bristles that adapt to your dog's body, providing a gentle brushing experience. Additionally, the non-slip handle enhances your grip, ensuring that you and your dog can enjoy the grooming process without discomfort.

Another notable feature of this brush is its exceptional ability to collect dirt, dander, and loose hair. This means you can easily keep your pet clean and your home free from excess fur, thus making it a practical tool for pet owners.

Pros

Self-cleaning features.

Functions as a de-shedding tool.

Thoughtful design.

Recognized as the best overall choice for 2022 by Spruce Pets.

Trusted by countless pet owners.

Reduces shedding, detangles fur, and effectively removes dirt and debris.

Brush is suitable for furry cats and dogs with all types of fur.

Clean with a push of a button.

Cons

In some cases, it may result in skin irritation.

The fur release mechanism might occasionally malfunction.

Hartz Groomer's Best Deshedding Slicker 

This de-shedding slicker brush for dogs ensures that your furry friend sports a healthy and shiny coat. This brush accomplishes this by gently massaging the skin and stimulating the natural production of moisturizing oils.

Hartz, a trusted name in pet care, has collaborated with professional groomers to create their Groomer's Best slicker brush. This tool is designed for daily use, specifically for de-shedding and detangling even the most stubborn fur.

This keeps your pet looking their best and helps keep your clothes and furniture free from unwanted pet hair. The brush features thin bristles with a protective coating that helps remove tangles and matted hair. The high quality and sturdy design helps deal with intense grooming sessions.

Pros

Suitable for all coat types.

Versatile and ideal for both cats and dogs.

Constructed from durable polyester and foam.

Effective at detangling stubborn mats and tangles.

Endorsed by professional groomers.

Cons

The protective coating may wear off with frequent use.

Bristles may occasionally get stuck in your dog's coat.

Quadow Tuffer Than Tangles Slicker Brush

This slicker brush has an ergonomic handle, ensuring a comfortable and easy grip while tending to your dog's precious coat. It can be used with other grooming tools to achieve optimal results.

Moreover, it's not limited to just dogs. It can also be used as a cat brush and has proven to be highly suitable for Persian cats.

The soft and long pins reduce pressure on the brush, your pet, and their skin. This makes it easier to reach down to the skin rather than just brushing the surface. It's a must-have for long-haired dogs and has a lot of positive feedback from long-haired-dog owners.

Pros

Easy to clean.

Affordable pricing.

Soft bristles for comfort.

Ideal for long-haired dogs.

Effective for removing loose undercoat.

Cons

The durability of the product may not be the best.

There are better alternatives available at a similar price.

Master Grooming Tools Ergonomic Slicker Brushes

This brush comes with an ergonomic handle designed to keep your hands in a comfortable, natural position. This not only prevents fatigue but also reduces the risk of motion-related injuries. Its thoughtful design ensures excellent control, making it suitable even for double-coated dogs.

Despite its robust and durable manufacturing, the brush remains lightweight, effortlessly gliding through your dog's coat. It's extremely effective for brush-outs and tackling mats. The stainless steel pins are designed with cushioning to provide a comfortable and gentle brushing experience.

Pros

Highly recommended by professional groomers.

Ideal for prepping your pet for a bath.

Ergonomic handle promotes a natural hand position, reducing fatigue and the risk of repetitive motion injury.

Provides a snug fit for your hand.

Cons

Improper use may potentially scratch your dog's skin.

Not suitable for left-handed users.

Chris Christensen Big G Dog Slicker Brush

Crafted especially for professional groomers, this slicker brush stands out with its cushioned pad that retracts scratch-free pins. This clever design makes handling tangles and knots in your dog's coat easier.

What sets it apart is the larger than the usual pins, which grasp hair more efficiently and save you time and energy during pet grooming sessions.

Furthermore, it features a unique GroomGrip rubber coating, making it an excellent choice for bath time. This coating ensures a secure grip, preventing the brush from slipping out of your hands. At the same time, the ergonomic handle helps prevent brushing fatigue.

Pros

Features larger pins compared to standard brushes.

Enhances efficiency, saving time and effort during grooming.

Tailored for professional groomers.

Equipped with a cushioned pad featuring an efficient release mechanism.

Reduces the risk of brushing fatigue.

Cons

It may not be suitable for smaller dog breeds.

It may require pairing with other grooming tools for comprehensive grooming.

Millers Forge Slicker Brushes for Dog Grooming Professionals

This curved slicker brush for dog grooming isn't just long-lasting; it's also incredibly comfortable to use. Special thanks to its fine stainless steel pins and ergonomically contoured plastic handles, it's a breeze to use. This brush efficiently removes mats, loose hair, and debris from your dog's coat.

Professional groomers swear by this tool. It's lightweight and extremely easy to use, thanks to its well-designed contour for user comfort.

Moreover, it's an excellent choice for pets with sensitive skin. The metal body makes it indestructible and a reliable choice.

Pros

Sturdy and durable pins.

Imparts a glossy sheen to the coat.

Ideal for sensitive skin.

Affordable and highly effective.

Highly recommended by numerous groomers.

Cons

In rare cases, excessive use may lead to some hair loss.

The product may break if not used properly.

Pet Slicker Brush With Soft Massage Pet Grooming Stainless Steel Pins

This brush has been thoughtfully designed with stainless steel pins that are not only 50% longer but also softer compared to a typical slicker brush.

These specialized pins allow the brush to effortlessly glide through thick coats, preventing skin scratching and providing a soothing massage effect during grooming. It's a tool suitable for puppies, kittens, and adult dogs and cats.

Moreover, it has a long ergonomic handle with a slip-resistant surface, giving you better grip and control during brushing sessions.

This makes it well suited for long-haired and double-coated breeds such as Poodles, Goldendoodles, Pomeranians, Collies, and various cat breeds with soft and fluffy coats.

Pros

Trusted and used by professional groomers.

Features gentle stainless-steel pins.

Equipped with an ergonomic handle designed for a secure grip.

Offers a 30-day refund or replacement policy.

Backed by a lifetime warranty.

Cons

In rare instances, the wire pins may become detached.

The cleaning mechanism might experience occasional issues.

Ryan's Pet Supplies Paw Brothers Extra Long Pin Flat Slicker Brush

The brand has a straightforward mission to offer top-notch pet grooming supplies without breaking the bank. This slicker brush boasts extra-long stainless steel pins that dive deep into the coat.

Moreover, it's an ideal choice for medium to large dogs with thick fur, and it is the right choice for dogs with double coats.

The brush features flat slickers with rounded corners that ensure it doesn't harm the dog's skin. It's designed to efficiently remove loose hair without tugging or causing discomfort. It also works well on curly coats.

Pros

Rounded corners for skin safety.

Effective at penetrating deep into the coat.

Well suited for medium to large dogs.

Provides a comfortable and non-slip grip.

Highly affordable pricing.

Cons

It may not be suitable for use as a bath brush.

Frequent use may lead to hand discomfort.
What To Look For In A Dog Slicker Brush?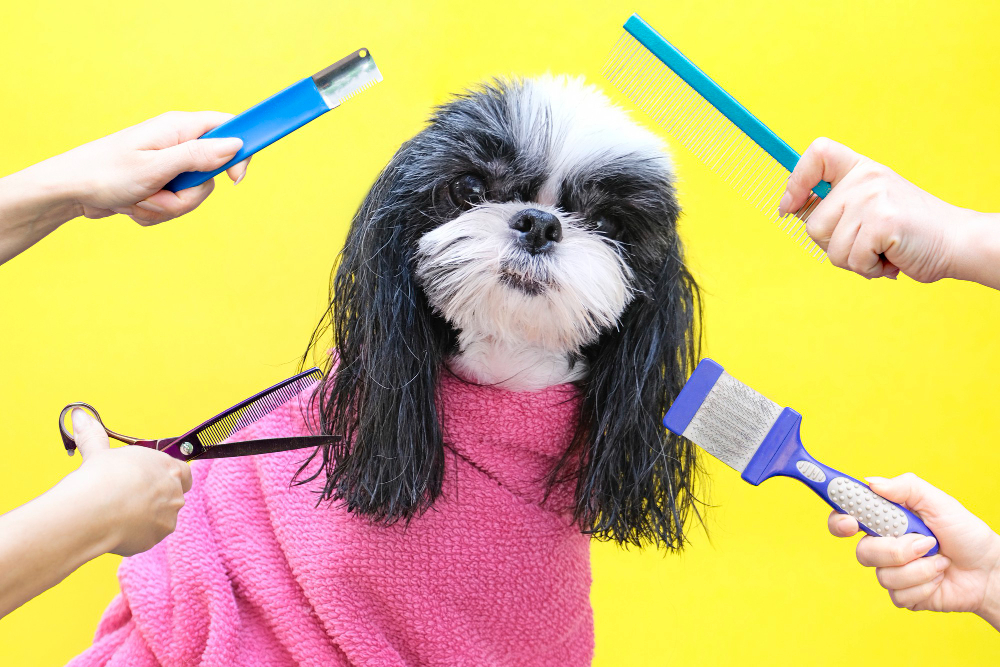 When you're on the hunt for the perfect dog slicker brush, there are a couple of key things to watch out for to ensure you're getting the best tool for your dog's grooming needs.
Here's what you should look for:
Design

Check the quality and placement of the bristles on the brush. They should be fine, durable, and firmly anchored to the brush's base.

They should also be spaced close together but not too tightly. This ensures that mats and tangles are dealt with without causing discomfort to your dog.

Size

Consider the size and shape of your slicker brush. It should fit comfortably in your hand and be suitable for your dog's size and coat type. Smaller brushes work well for small breeds, while larger brushes are better for big dogs.

Reviews

Read user reviews and ratings to get a sense of how well a particular brush performs. Real-world experiences from other dog owners can provide more valuable insights than any marketing on the product page.

Price

There are a wide range of prices for slicker brushes available, so consider your budget. You can find a quality slicker brush for less than $20, while professional-grade tools can cost $80 or even more.

While investing in a quality brush is essential, you don't necessarily need to break the bank to find an effective one.
PRO TIPS: Using Slicker Brushes
Here are some pro tips for using a slicker brush:
Tip 1 - Prepare the coat

Before you start grooming your dog, preparing their fur is essential to make the process easier and more comfortable for both of you. One way to do this is by using a little detangling spray or leave-in conditioner that your vet suggests on their fur.

Tip 2 - Section it off

Brushing your dog with a slicker brush is best done in segments. You can divide your dog's fur into sections using the slicker brush before you start brushing. Doing this makes sure you cover the whole dog's coat.

Tip 3 - Be patient

Hurrying through this process can lead to hair damage or make your dog uncomfortable. Patience is key because untangling knots can be a slow and sometimes painful experience for your furry companion.

Tip 4 - Positive Reinforcement

Once you've finished grooming your dog and you're happy with how it turned out, give your dog a treat as a reward. This way, you can encourage positive behavior in your furry friend.
Final Words!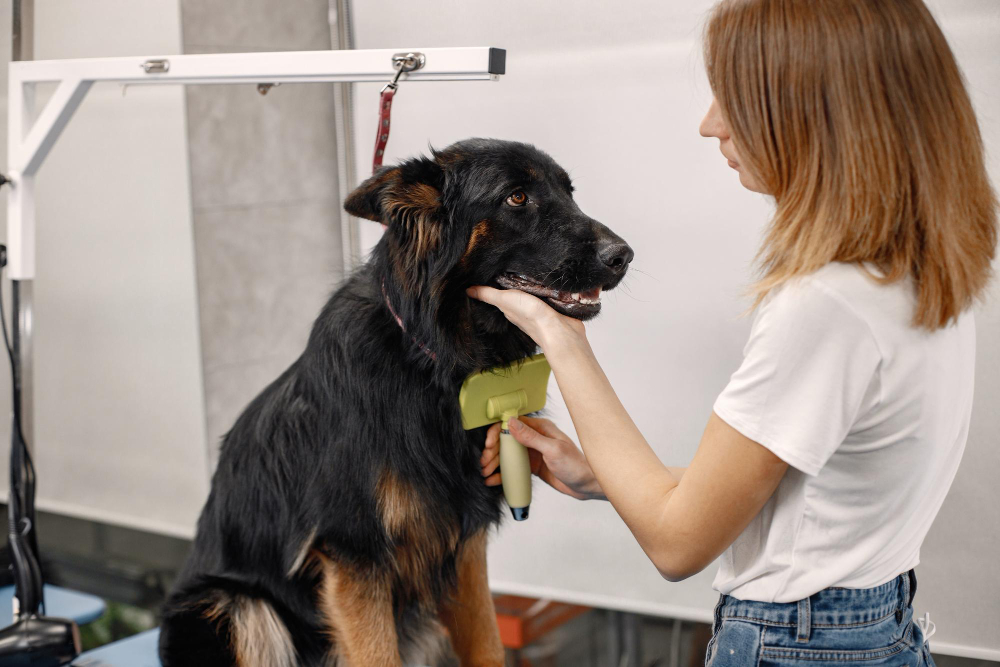 When it comes to grooming, having the right tools can make all the difference. Today, we've taken you on a journey to explore the best dog brushes.
From using a soft bristle brush to self-cleaning wonders to brushes designed for professional groomers, we've seen many options to suit various needs and budgets. But what's most important is finding the one that works best for you and your dog's coat.
Remember, grooming isn't just about how your dog looks in the end; it's about promoting your dog's well-being. A well-groomed coat means a happier and healthier dog.
So, here's to happy, healthy pets and stress-free grooming with the best slicker dog brush on the market.
Frequently Asked Questions
How often should I brush my dog?
If you have time, try to gently brush out your dog daily. It helps by getting rid of loose fur, avoiding messy hair knots, and ensuring the natural oils on their skin are spread evenly. But there's more to it than just keeping them clean. Brushing your dog daily lets you check their whole body for any possible health problems early on.
If you can't manage daily brushing, once a week should be okay for most dogs. However, if your pup has long hair that tends to get tangled, brushing it more often, like two to three times a week, is a good idea.
How do I make grooming easier for my dog?
Start by making sure the brush you use is gentle on your dog's skin. You can check it on your own arm if you're not sure. Give your dog treats while you brush them, and if they seem stressed, take a break.
Also, be careful not to brush too much. Brushing too often can irritate their skin, which is called brush burn. This can happen, mainly if you use a slicker brush on dogs with short hair.
How do I maintain my dog brush?
After each grooming session, keep your dog's brush dry and get rid of the hair stuck in it. You can do this by using a comb. Simply slide it into the pin brush bristles near the bottom of the brush and lift out all the hair in one go.