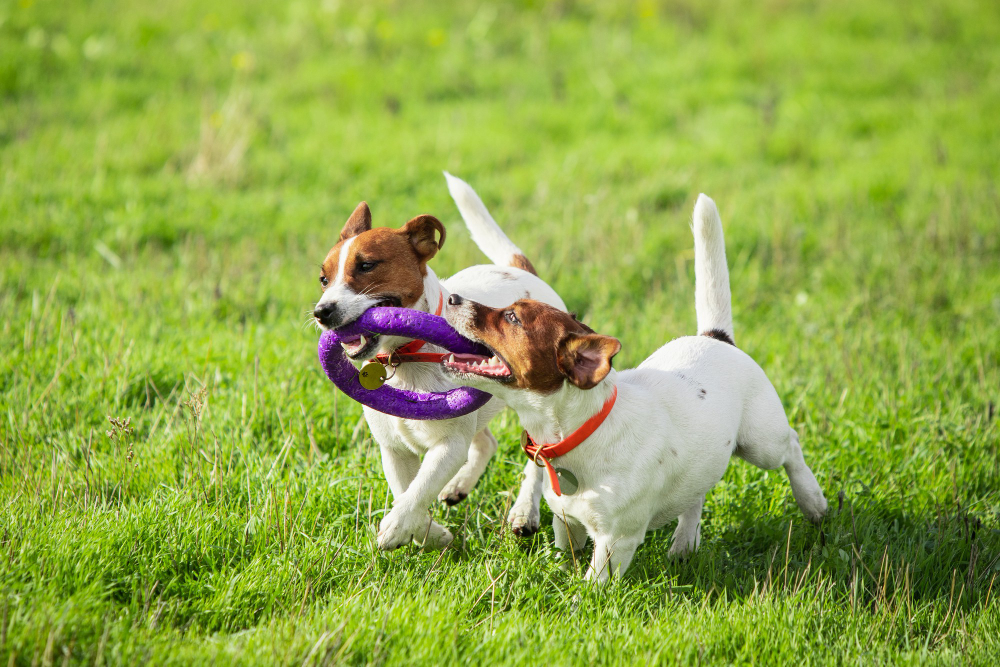 Do you have an enthusiastic dog running all around the place? Do they love playing fetch?
We know that all this makes pet parents naturally look for the best dog fetch toy option available out there.
Well, look no more because today, we at Rexipets sat down and compiled a list of the best fetch toys out there for dogs!
From the trusty old frisbees and tennis balls to some new and exciting innovative toys, we have a whole fetch-toy collection. You can easily explore it for your canine best friend.
So, grab your pup, get ready to play a good old game of fetch with them, and dive with us into the world of the best fetch toys for dogs!
Things To Consider When Getting A Fetch Toy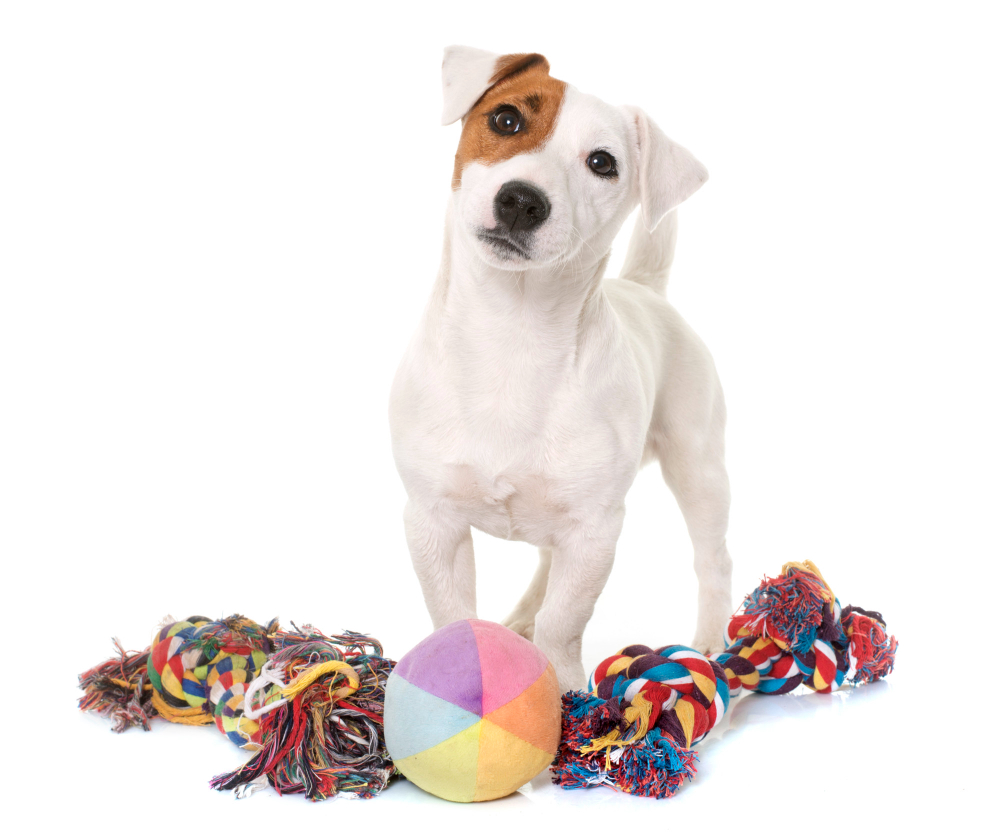 Before you rush out to your favorite pet store to buy a fetch toy for your four-legged friend, there are a few essential things to consider.
After all, you want to make sure that the dog toys you choose are not only fun for your dog but also safe and suitable for their needs.
Here are some factors to keep in mind when you're browsing the pet aisle or hovering over your favorite online pet store:
Size

It's crucial to pick a fetch toy according to your dog's size. If your dog is big, small toys could potentially get stuck in their throat and be a choking hazard, so it's best to avoid those.

Conversely, if you have a small dog, large toys might be too heavy and uncomfortable to carry around easily. In some cases, these large toys may even dislocate their jaw.

So, choosing the right-sized fetch toy is vital to ensure your dog's safety and enjoyment during playtime.

Durability

Dogs can be hard on their toys, especially during an enthusiastic game of fetch. So, it's wise to search for toys that are tough so that they won't break easily.

Make sure these strong toys can handle your dog's biting and pulling without falling apart.

Safety first

Before you get a toy for your dog, look closely at it. Make sure there aren't any tiny bits or things that might come off and be a choking hazard for your dog. Also, it's best to stay away from toys that have harmful chemicals in them, like toxic plastics or chemicals that could potentially make your dog sick.

This way, you can be sure that the toy you choose won't accidentally harm your furry friend.

Dog's personality

Every dog is unique, and they have their favorite ways to play fetch. Some dogs really enjoy chasing after frisbees that fly through the air, while others prefer bouncy balls that bounce around.

It's important to pay attention to what your dog likes and what makes them excited during fetch games. Knowing your dog's preferred style of playing can help you choose the perfect toy that will make them happy and eager to join in on the fun.

Budget

When it comes to buying fetch toys, you'll find them at various prices. So, it's a good idea to decide how much you're willing to spend. Once you've figured that out, you can look for toys that fit your budget.

This way, you can make sure you're spending what you're comfortable with and still find a great fetch toy that your dog will love. It's all about balancing what you want for your dog and what you can afford without breaking the bank.

Playing location

It's essential to think about where you'll be playing with your dog before picking a fetch toy. If you're playing indoors, you'll want a toy that won't cause any damage, like a softball or plush toy.

If you're playing outdoors, you can choose more rugged options, like a sturdy rubber ball or a frisbee. By considering the play location, you can ensure that your dog has a great time without any accidents or mishaps.
Fetch Toy Options For Your Furry Friend
Ready to take your dog's playtime to another level? Check out this list of top-notch fetch toys that will have your furry friend fetching with joy and excitement.
We have divided the fetch toys into two major categories:
Outdoor Fetch Toys

When it comes to outdoor fetch toys for dogs, you have a wide range of options. These toys are designed to withstand environmental factors while they provide a fun experience for your furry friend.

Here are some popular choices for outdoor fetch toys:

Rexipet's Flyer disk

The Flyer Disc is a fantastic choice for those energetic dogs who love running around and playing fetch. It's custom-made to cater to their active nature and enthusiasm!

Crafted from durable plastic, this toy can withstand the rough handling and grip of your dog. So it won't easily get damaged during those exciting play sessions.

It comes in three fun, bright colors: green, blue, and pink, making it easy to spot when playing in different places. It's tough enough to handle their firm grip yet gentle enough not to harm their teeth while they play with it.

So, with the Flyer Disc, you and your dog can have a blast in the park, at the beach, or wherever you choose to play.

Rexipet's dog chew ring

This durable ring is designed for exciting games of fetch, making it easy to toss it around. All this adds more fun to your dog's chase. Its shape and size are perfect for a game of catch, making sure that your furry friend gets the exercise they need while having a blast.

The best part is that this dog chew ring is built to survive even the toughest play sessions. Whether your dog is a gentle fetcher or a more enthusiastic one, this ring can handle it all, making it a long-lasting investment in your dog's playtime.

What sets our dog fetch ring apart is its added feature of promoting dental health. The small bumps on the ring's surface can help keep your dog's teeth and gums in great shape while they're chasing it.

So, if you're searching for a versatile fetch toy that keeps your dog active, and helps maintain their dental health, this dog ring is the way to go.

Rexipet's Heavy Duty Dog Play Ball

This is the sturdiest and longest-lasting ultra ball you can get for your dog. If your furry friend adores fetch and can't resist a good chew, this top-notch rubber ball is the perfect choice. It's built to withstand the toughest play and keep your dog happily occupied for hours.

Made from high-quality rubber, the RexiPets Black Ball is perfect for those strong chewers, ensuring it won't easily succumb to their teeth. But it's not all about toughness – this ball is also wonderfully bouncy, making it an excellent fit for those cheerful dogs who love to dash around during playtime.

Plus, we've got a little surprise for your pup's taste buds – the RexiPets Black Ball is available in two flavors: Beef and Bacon. So, it's not only about play but a burst of yummy goodness, too.

With its puncture-resistant design and flavor options, this ball promises endless fun, safety, and satisfaction for both you and your canine companion.

Rexipet's dog chew toy tug me football

You got an active pup who's all about fetch and tugging games? Look no further! The new Rexipet's dog chew toy, shaped like a football and paired with a sturdy rope, will be your furry friend's new favorite.

This fantastic toy isn't just for running and tugging. It's built to handle some severe chewing, too. It bounces everywhere, adding a new excitement to fetch games.

But here's the best part: it's more than just a fun toy. It's designed to keep your dog's teeth in tip-top shape while they have a blast. Plus, it's tough enough to endure those intense play sessions.

Rexipet's Dog chew toy spike ball

Do you have a dog that loves to chase things? This toy is a perfect fit. It's tough enough to handle your pup's chewing and can travel a reasonable distance when you throw it, making it a great fetch toy.

But here's the twist – it's not just for fetch. You can fill it up with your dog's favorite treats. They'll have a blast chasing it and working to get those treats out. It's like a game that keeps them happy and busy.

And there's a bonus! When your dog bites it hard, it makes noise, which makes the game even more exciting. So, if you want to keep your furry friend entertained while you play fetch, this toy is the answer.

KONG Classic Flyer Frisbee Dog Toy

This flying disc is made of rubber, providing a gentle catch and protecting your dog's teeth and gums. However, it's made out of durable rubber. It's not suitable as a chew toy and may not survive if your dog is an aggressive chewer.

When thrown correctly, the disc flies straight and level, although it may take some practice as it's heavier than typical flying discs.

The Kong Flyer comes in small and large sizes for different dog breeds and weighs less than 1 pound. It's available in bright red for easy visibility, and the smaller version comes in pink and blue, too.

Rexipet's Dog Tug Toy Rope Ball

What's fantastic about this toy is its versatility. If your dog likes chasing after balls, they'll have a blast with the rope ball. It's perfect for a game of catch, and the sturdy rope material ensures it bounces around, adding extra fun to playtime.

If your dog prefers tug-of-war, this rope toy is a great choice, too. The looped design makes it easy to hold onto one end and play a friendly tug of war with your furry companion. It's a good exercise for both of you, and your dog will cherish this time.

The dog rope ball is constructed from tough, long-lasting ropes that can handle even the toughest chewers. Whether your dog is a strong chewer or enjoys rough play, this toy can take it all.

Chuckit! Classic Ball Launcher




This ball launcher is a true favorite among dog owners and is known for its high ratings. It can send tennis balls flying much farther than you could throw, which is fantastic for dogs that enjoy chasing balls far and wide.

With the purchase, you'll get one brightly colored ball, but you can use any standard-sized tennis ball. It's made from rigid plastic and it comes in multiple sizes so you can just pick one out according to your preference.

The best part? Using the launcher to pick up the ball is a breeze – no need to bend over or handle your dog's drool.

The launcher has an ergonomic handle for throwing, and it is deemed perfect for medium to large dog breeds that love to run.

West Paw Echo Collection Zwig

Dogs and sticks are like a natural pair. But real wooden twigs and branches can be risky for dogs since they can break into sharp pieces and harm your dog's mouth. This is where the West Paw Zwig comes in.

This unique fetch stick has a cool twisted texture; it also bends and has a hollow center, so it floats on water. With its almost 14-inch length, this stick-like toy provides a safe distance between your hands and your dog's jaws, making tug-of-war secure.

It's a safer choice for dogs that enjoy fetching sticks and can even be used as a water toy because it floats. Also, it's dishwasher-safe for easy cleaning.

Chew King Glowing Fetch Balls

This glow-in-the-dark fetch ball is perfect for nighttime play as it's easy to spot in low light. It looks white during the day and needs to soak up sunshine to charge up. The more light it gets, the brighter and longer it glows in the dark.

It is available in sets of two, four, or eight, with various sizes from 2.5 to 4.5 inches. The balls have air vents for safety and are made from pet-safe rubber, providing a good bounce.

However, they're not for chewing, and it's recommended to supervise your dog while they play with these fetch balls. Moreover, cleaning them is easy too, as they're dishwasher safe too!

Kurgo Floating Skipping Stones Dog Toy

These dog toys are designed for fun in the water, resembling natural stones that skip and float. They're made from safe PVC and BPA-free foam plastic and are known for their durability. They are available in three sizes, like standard tennis balls, but big dogs could swallow them.

So, it is important to stress they're not for chewing, just fetching, so supervision is essential.

These toys come in bright colors – orange, green, and purple, making them easier to spot. Lightweight and affordable, they're easy to throw and carry around as well.

If they get dirty, toss them in the dishwasher for quick cleaning.

Indoor Fetch Toys

When you're playing fetch indoors, it's essential to choose toys that won't damage your home and are suitable for indoor spaces.

Here are some indoor fetch toy options you can choose from:

Rexipet's Dog Chew Toy Play Dumbbell

Are you looking for a fun way to keep your furry buddy entertained and help their teeth stay healthy? Check out our fetch dumbbell dog toy!

This toy is built tough and safe for dogs of all sizes and breeds. It's perfect for playing fetch, chewing, or just carrying around the house. Plus, it comes in bright colors with a fun design that'll grab your dog's attention and provide hours of entertainment.

But here's the bonus – this dumbbell dog toy is also good for your dog's dental health. Chewing on it can reduce tartar and plaque buildup, keeping their teeth and gums in good shape.

Let's face it: dogs can be pretty rough with their toys. That's why our fetch dumbbell dog toy is designed to last so that you can enjoy extended playtime with your furry friend.

Rexipet's Squeaky Plush Dog Toy Speedy Fox

Crafted from high-quality materials, this toy is built to last and can handle long fetch sessions. Plus, it's cuddly enough for comforting snuggles. It's an ideal toy to help your dog feel better when you're not around, if they have separation anxiety.

Your dog will have a great time fetching or snuggling with this strong and top-notch fox toy. Best of all, this toy is for indoor use, so feel free to throw it around without worrying about damaging your house or furniture.

This toy comes in several variations in terms of animals as well; these include - Squeaky Plush Dog Toy Sleepy Raccoon, Squeaky Plush Dog Toy Naughty Raccoon, Squeaky Plush Dog Toy Dancing Duck, Squeaky Plush Dog Toy Ghost Raccoon. So you have a wide range of animals you can choose from.

Chiwava Three-Pack Squeaky Standing Stick Animal Dog Toys

These toys come in a set of three animals – a chicken, a pig, and a frog. They are made from lightweight rubber, so it's easy to throw them. Dogs like these toys because they make a loud noise when squeezed, and they bounce around, which is fun for the dogs.

But remember, they are not made for intensive chewing. These toys come in bright colors, so they are easy to spot. You can use these toys indoors or outdoors when playing with your dog.

Chuckit! Indoor Ball Dog Toy

When you can't go outside, you can still play fetch with this indoor ball. It's lightweight and won't harm indoor surfaces, but it still bounces, which dogs love. It doesn't leave marks on walls.

This soft indoor ball is made from textured fabric, so it's easy to hold and gentle on small dog mouths, making it ideal for puppies. But remember, it's not the best choice if your dog is a hardcore chewer.

The plush exterior won't damage your furniture or walls, and the fun texture makes it enjoyable for dogs to carry and fetch. Its softball size is big enough for tug-of-war.

Chuckit! Indoor Roller

The Chuckit! Indoor Roller is designed for indoor play like the Chuckit indoor ball toy - you can play with these indoors without causing damage to your walls or furniture. It's made from soft chenille fabric and uses a unique Bounceflex Core Technology.

When you throw it, the broad side lets it roll down hallways and stairs, making it fun for your dog to chase. It's perfect for indoor play and has durable manufacturing with a lightweight core.

Moreover, its bright colors make it easy for your dog to see and play with.

Hide A Toy Plush Puzzle Toy

Outward Hound's Hide A line of plush dog puzzles is designed primarily for fetching fun. These interactive toys come with squeaky animals for your dog to hunt, keeping them engaged for a while.

This toy provides a playful way to encourage positive play while entertaining your dog's instincts. These toys are gentle on your dog's teeth, making them a good choice for adult dogs and little puppies.

However, it is important to supervise playtime, as no toy is completely indestructible. So replace any damaged parts as they can be a choking hazard.
How Do You Train Your Dog To To Fetch Toys?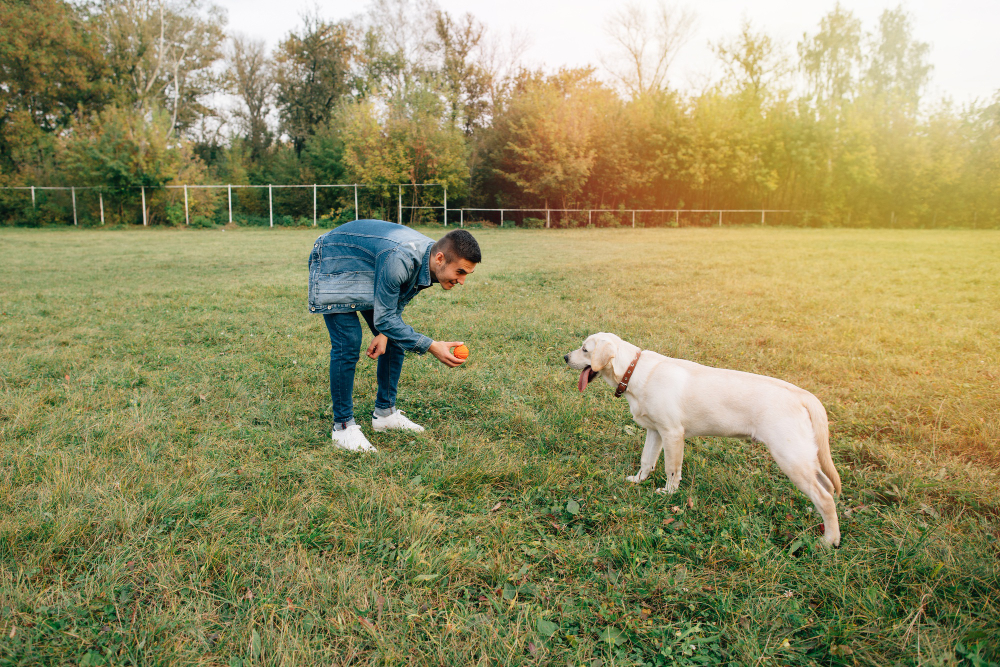 Not all dogs naturally understand how to play fetch. However, teaching your dog to play fetch is possible with some training.
According to the American Kennel Club, having a variety of dog toys can help you find what your dog enjoys. You can try toys like frisbees, different types of balls, or even some plush toys to figure out what works for them specifically.
To teach your dog to fetch, you'll essentially need four things -
Treats

A clicker

Praise

Patience
Start with teaching the "drop it" command using a treat. Make your dog grab the toy, then use a treat to encourage your dog to drop it.
Gradually wean your dog off treats, using a hand to signal "drop it" and rewarding with a treat from your pocket. Once your dog has gotten the hang of the drop it command, it is time to employ the "bait and switch" method.
You will need two toys to train your dog to fetch and return. Throw one toy, and when your dog has it, toss the second in the opposite direction.
Then, move on to using one toy and having your dog return the original toy without needing a second one. Once your dog can reliably do this, congratulations, their fetch training is complete.
Final Words!
To sum up, finding the perfect dog fetch toy for your dog is a very crucial decision. These toys you buy are not just about play sessions - they're a way to spend quality time with your furry buddy.
Choosing a suitable fetch toy for your dog involves considering various factors. Match the toy's size to your dog's, prioritize durability, and ensure safety by checking for small parts to avoid choking hazards or toxic materials.
Moreover, pay attention to your dog's play preferences, set a budget, and think about the play location to determine whether you need an indoor toy or an outdoor one.
There are many fetch toys out there, from simple balls to more unique options. The key is to pick one that matches your dog's size, age, and play style.
That way, you can keep them entertained and safe, whether you're playing inside or outdoors. It's a great way to build a solid and loving bond with your four-legged friend.
Frequently Asked Questions
Can I leave my dog unsupervised while playing with these toys?
Supervising your dog during play with these toys is crucial, especially if your dog is an aggressive chewer. The stone-shaped dog toys are designed especially for fetching and water play, but they may not withstand extended chewing.
Being watchful allows you to ensure your dog's safety and prevents potential damage to the toys, reducing the risk of choking or swallowing small parts.
How do I clean fetch toys after outdoor play?
To keep your dog's fetch toys clean, you can usually wash them in the dishwasher or with soap and water. However, the right way to clean them depends on the type of toy.
So, it's important to read the cleaning instructions provided by the toy's maker. This helps to keep the toy in good condition and ensures that your dog can play with it safely.
What size of fetch toy should I choose for my dog?
Picking the right size of fetch toy matters a lot. Small dogs need smaller toys, while big dogs should have larger ones. Make sure the toy fits your dog's mouth comfortably.
If it's too small for a big dog, they could swallow it by accident. But if it's too big for a small dog, they might have trouble playing with it. Choosing the right size keeps your dog safe and happy during fetch games.